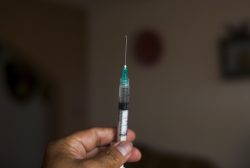 By Melissa Meehan
The tears can last a couple of minutes, but a simple jab can protect your kids for much, much longer.
World Immunisation Week starts Tuesday and is an opportunity to highlight the need for all Australian children to be protected from preventable diseases.
And while our vaccination rate for five year olds is one of the best in the world – at 94 per cent – there is always room for improvement.
Latest figures from the Australian Childhood Immunisation Register show that 96.26 per cent of youngsters in Greater Geelong are fully immunised.
This year's theme "Protected Together, #VaccinesWork" encourages everyone to make a greater effort to increase immunisation coverage to protect our kids.
Federal health minister Greg Hunt says the evidence of the effectiveness of vaccines is unavoidable.
"Since the introduction of vaccination for children in Australia in 1932, deaths from vaccine-preventable diseases have fallen by 99 per cent—despite a threefold increase in Australia's population over that period," Minister Hunt said.
"We know immunisation saves lives—worldwide. It has been estimated that immunisation programs prevent approximately three million deaths each year."
The week coincides with the availability of the 2018 flu vaccines in Australia.