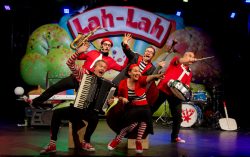 Lah-Lah is all about introducing kids and their families to the wonderful world of live music and musical instruments.
Stripy-socked singing sensation Lah-Lah and her Big Live Band are sure to get the whole family up singing and dancing with their award-winning live and top rating TV shows!
Meet Mister Saxophone, Squeezy Sneezy on accordion, Tom Tom on drums, Buzz the Bandleader, Lola the Dancing Double Bass and the ever lovable Lah-Lah!
From their TV show on ABC KIDS, CBeebies and the Seven Network to their sell-out live concerts, Lah-Lah's Big Live Band continue to delight audiences across Australia.
Most importantly, children are learning about music and musical instruments while having fun with the lovable Lah-Lah and the band!
Come and party with the stars of ABC KIDS Lah-Lah's Big Live Band as they celebrate their 10th birthday around Australia.
Geelong West Town Hall on Wednesday July 4 at 10am
To book tickets call 1300 788028 or visit www.lah-lah.com/tickets