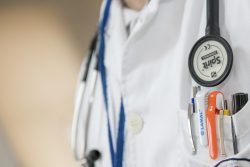 Victorian hospitals are now legally required to report cases of potentially fatal anaphylaxis.
The reporting is mandatory under new laws made in response to the 2013 death of a Victorian boy who was allergic to dairy products.
The new laws, which came into effect on November 1, have been implemented so health authorities can respond quickly to anaphylaxis risks, such as those caused by incorrectly labelled packaged food.
Anaphylaxis is the most severe form of allergic reaction and is becoming more common.
In 2016-2017 more than 2,440 people presented to Victorian public hospitals with anaphylaxis. Of those, food-related anaphylaxis made up for nearly half the cases.
The boy who died in 2013 had consumed a can of imported coconut drink which failed to declare the presence of milk as an ingredient on its label – a breach of Australian food labelling law.
"The primary purpose of the new anaphylaxis notification scheme is to allow the Department to take swift action where a notification reveals a broader public health risk," Victoria deputy Chief Health Officer Dr Angie Bone said.
"This action may include the recall of an offending food product from the marketplace to protect the public.
Under the new laws, Victorian public and private hospitals will be required to notify the Department of Health and Human Services when people present to hospital with anaphylaxis, regardless of the likely cause.
"This will include anaphylaxis caused by the consumption of food – whether in the home, from a food premises or from a potentially mislabelled packaged food," Dr Bone explained.
"If the suspected cause of anaphylaxis is the consumption of a packaged food the notification is required immediately by telephone."
Other cases of anaphylaxis presentations are required to be made within five days of the initial diagnosis through an electronic online form.
"Acting in a timely manner will protect the Victorian public from preventable anaphylactic reactions, which have been on the rise since 1993," Dr Bone said.