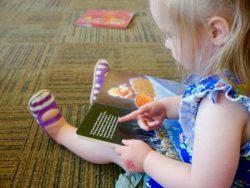 Parents and carers have just one more week to switch to the new childcare system or risk disrupting their payments.
Some 200,000 families who put their kids in childcare are yet to make the switch to the new subsidies system, which begins on 2 July.
The federal government says that families, on average, will be $1,333 a year better off for each child in care.
However there are reports many childcare centres are preparing to hike their fees by 10 per cent or more, angering parents who fear they will miss out on any savings intended under the new system.
Minister for Education and Training Simon Birmingham said the government was overhauling the system by "retargeting subsidies" to families working the most and to those earning the least, abolishing the annual rebate cap for most families and introducing an hourly rate cap to put downward pressure on fee increases.
Mr Birmingham said low and middle income families risked missing out if they didn't make the switch by 2 July as they may have to pay full fees.
"We want to see as many families as possible benefit from these important reforms," he said.
Parents and carers are urged to log on to myGov or visit www.education.gov.au/childcare and update their details if they haven't done so already.
Key elements of the reforms
Increasing investment in early childhood education and care by $2.5 billion over the next four years
An activity test so that support for childcare is targeted to those who depend on it in order to work, or work additional hours. The activity test includes a minimum of four hours of working, looking for work, training/studying and volunteering
The package provides the highest rate of subsidy to those on the lowest income levels and more hours of subsidy to those who work the most. The base subsidy is increasing from around 72 per cent to 85 per cent for the more than 370,000 families earning around $66,958 or less a year.
Low and middle income families, earning up to around $186,958, will no longer be limited by an annual cap on the amount of child care they can access.
Families earning more than around $186,958 will also benefit from an increased annual rebate cap of $10,190.
Government modelling on how families will benefit:
A family on $50,000 – both parent/s working, with two children aged under 6 in long day care two days a week at $100 a day will be around $2000 better off a year
A family on $80,000 – both parent/s working, with two children aged under 6 in long day care three days a week at $100 a day will be over $3000 better off a year
A family on $150,000 – both parent/s working, with two children aged 6 and under in long day care three days a week at $100 a day will be more than $1000 better off a year