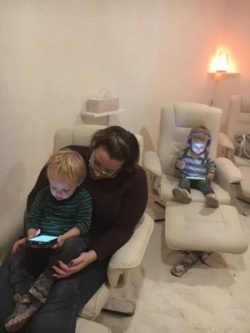 Salt therapy is a natural alternative to treating children for a range of health issues, advises The Wellness Studio in Geelong.
The studio's drug-free salt therapy room uses a process clinically proven to benefit children with respiratory and skin conditions.
The therapy uses the natural healing properties of Himalayan pink salt to detoxify the body and improve how it functions.
Dry aerosol micro-particles of Himalayan and pharmaceutical grade salts are dispersed into the custom-designed room during the 45 minute treatment session.
Children and adults sit on comfortable chairs in the room as they undergo the treatment, explains the studio's Maddi Pecar.
"The most important factor is not necessarily the salt but the way that it is broken down," she says.
"We break the salt down to an aerosol format. It becomes a dry mist that's pumped into the room.
"Kids respond to salt therapy a lot quicker than adults – the salt therapy can work more efficiently on their congestion.
"It can help to clear anything causing blockages, inflammation or congestion.
"Our most frequent feedback from parents is how well their children are sleeping at night after salt therapy because they can breathe easier.
"The salt room is 100 per cent natural, it's salt. Kids can just play with it too, it's natural therapy."
Maddi says the treatment has benefits ranging from opening up airways to increasing the effectiveness of medication.
"It's anti-bacterial, anti-histamine, anti-inflammatory and anti-viral," she said.
"I suffered from severe eczema as a child which was also very painful. I no longer need to take steroid inhalers or creams now, because of doing the salt therapy."
Salt therapy can also help with long-term conditions including asthma, allergies, sinusitis and lung problems.
It can also help with prevention, Maddi says.
"Salt therapy works differently for everybody and we have had so much amazing feedback. And all our staff loves the fact that they work in an environment that supports well-being," she says.
Owner Rodney Barratt was initially interested in the health benefits of salt floatation therapy when he opened The Wellness Studio In Geelong just over a year ago now, Maddi said.
The studio's sound-proof and light-proof float tank is filled with Epsom salts dissolved in 1000 litres of water, 30cm deep and warmed to skin temperature.
Floating can help with stress management, athletic recovery, sleep disorders, spiritual discovery, meditation and more, Maddi explained.
The Wellness Studio in Geelong offers seven days' unlimited salt therapy for one adult and one child 12 years or under for $60 with each additional child $15.
The studio recently installed an infrared sauna, offering a third treatment option that's up to seven times more effective than normal saunas for eliminating bodily toxins.
The Wellness Studio in Geelong is at Shop 11 Stephen Street, Belmont, phone 0476 199 247 or email admin@thewellnessstudioingeelong.com.