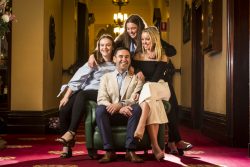 By Luke Voogt
Victorian Father of the Year Jason Stacks says his three daughters are the reason his family has not only survived but thrived.
"It's been amazing having the girls grow up with me," the Newtown resident says. "I think the story's more about them than me."
Adele (14), Kyralee (16) and Courtney (19) rallied around their heartbroken father after their mother attempted suicide in 2013, three days before Mother's Day.
Simple things, like a cuddle and crying together helped them battle through his grief.
"I wanted to hide for a long time," the 46-year-old says. "But my daughters brought me out and taught me how to live again."
Kim spent three months in hospital. She never recovered from her injuries and spent her remaining years in a nursing home, until she died in 2016.
Jason was "completely honest" with his daughters about his wife's condition.
"There is no bigger loss in anybody's life than if you lose your mother," he says. "The girls deserved to know everything."
Kim showed no signs of mental illness before her attempt on her life, Jason says.
"We were a super close family before it happened. It totally blind sighted us – we had no idea Kim was suffering."
He shares his late wife's story, in hope it will make others think twice.
"Kim had a thousand other choices," he says. "You can't just let a one-second decision devastate everyone around you."
Every day Jason wakes at 5am and works tirelessly at his electrical contracting business and part-owned building business.
Despite often working 15 hour days, he still cooks dinner and finds time for his girls, gets involved in school functions and volunteers as president for their netball club.
"I believed my girls deserved a childhood," he says. "Being a single dad is super hard, but I was still going to give them the best I could."
Jason takes the role of mum and dad seriously, but says his good sense of humour helps him talk openly about "girl issues" with his daughters.
He remembers one time in Vietnam returning on the back of a motorbike with four bags full of sanitary products for one of his daughters during a family holiday.
"The (bike rider) was just hysterical," he says.
Jason feels privileged that Adele nominated him for the award.
"I don't know in this world where I would be if I didn't have him in my life," the 14-year-old wrote in her nomination.
"Somehow, my dad is such a strong and happy person. With everything that goes on in our life, my dad has shown when life gets you down, you have to get up stronger and fight back."
Adele and Kyralee are thriving in their studies and sport, while Courtney is studying medicine at the University of Melbourne.
"I'm hoping they can still aspire to all they wanted to be when they grow up," Jason says. I'm trying to guide them and do the best I can."
Jason's friends describe him as the "model dad".
"Jason always put the girls first – I don't know how he does it all," says business partner and close friend Glenn Hammond.
Jason thanks his family, the girl's schools and Father Kevin Dillon for supporting him and his girls.
"They made sure they were just like everyone else," he says. "I can't thank them enough.
beyondblue support service line 1300 22 46 36
For more information about the Victorian Father of the Year award, visit www.fathersdaycouncil.org.au/