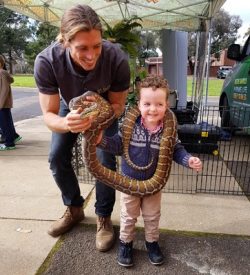 WildlifeXposure prides itself on facilitating hands-on contact with Australia's wildlife to grow appreciation and understanding of our amazing animals.
"We really enjoy supporting people's natural curiosity when it comes to wildlife and animals," director Xavier Morello says.
WildlifeXposure's amazing live animal displays and interactive presentations are guaranteed to be a huge hit at any event and the animals always steal the show.
Specialising in large council and community events, festivals, birthday parties, school and kindergarten incursions WildlifeXposure delivers exciting, educational and informative interactive presentations showcasing a diverse range of native animals.
Mr Morello said WildlifeXposure's famous stage shows always drew in the biggest crowds wherever they went.
"We find that everyone loves a great photo opportunity. You can safely smile at a crocodile, cuddle a dingo, drape a python around your neck, stare in to the eyes of an owl or laugh with a kookaburra" he says.
WildlifeXposure provides a high quality educational service that can be tailored to suit any demographic.
"We focus on ensuring that everyone has an opportunity to learn about, and be exposed to, Australia's magnificent native wildlife," Mr Morello says.