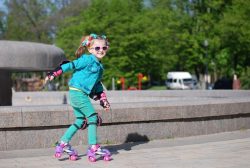 Roller skating is a fun, social and physical activity that the family can do together all year round.
It's also the perfect way to celebrate a birthday as it provides non-stop entertainment for groups big and small.
Regardless of your age, pulling on a pair of skates and rolling about is sure to bring a smile to your face.
And those who have never skated before, including young kids, will be pleasantly surprised by how quick they will be gliding across the roller rink floor.
Rollerway Newtown owner Raul Aparicio says although skating looks difficult, it is actually quite easy to learn.
"The first 10 seconds on skates is stunning but in about 20 minutes most are moving around independently and they've learnt a new skill," he said.
"You would be surprised by how easy it is to skate. In fact, each year we have more than 7000 kids attend parties at Rollerway and most have never skated beforehand."
"It's a fun and challenging activity that people can easily pick up and it really makes them feel good, and gives them a sense of achievement."
Rollerway specialises in parties that are incredibly good value for money. There are no maximum or minimum invites and you only pay for the kids who turn up.
The parties include admission, catering, roller skate or rollerblade hire and party bags. Most all-inclusive packages are priced below $20 per person.
"The parties go for 2.5 hours but often the kids are having so much fun that they want to stay longer," Mr Aparicio said.
"Our parties are recommended for kids six years or older, although younger kids can skate with a little patience.
"We even have quite a few 30th and 40th parties, which goes to show skating really is a fun activity for all ages."
With winter here, roller skating is also one of the few physical activities you can do out of the dreary wet weather.
"It's a fantastic school holiday or weekend activity for the family as it's something mum and dad can also enjoy," Mr Aparicio said.
Rollerway is one of Australia's longest running skate centres having first opened in 1975, but you should check out some of the recent additions, like the brand new practice rink for beginners and toddlers.
The facility offers public and private skating sessions, recreational and competitive in-line hockey as well as fitness development classes and specialist training programs.
There is also a great selection of roller derby, inline, ice and roller skating goods for sale on site.
For more information, including opening hours, visit www.rollerway.com.au or phone their enquiry line on 0411 335 544.
WIN WIN WIN!
Rollerway

 is giving Geelong Coast Kids readers the chance to win one of five 'Holiday to Holiday' skate passes worth over $400 each! There are also five consolation Family Passes to win (total prize value $2000).
For entry details and a chance to win, simply head in to 
Rollerway

 for a skate over the July school holidays.