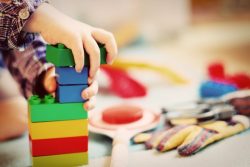 Aussie kids would have access to 15 hours a week of three-year-old kindergarten under a federal Labor government, Bill Shorten has promised.
The opposition leader has pledged $1.75 billion for a two-year national preschool program that would extend subsidised places to three year-olds.
"We all know that kids, when they get that chance to get the jump-start they need before they start school, they do so much better when they get to school," Mr Shorten said on a video posted to Twitter.
"We are going to guarantee 15 hours a week, 600 hours a year, not just for every four-year-old in Australia but for every three-year-old as well."
Mr Shorten said the preschool program would be funded by changes to the taxation system.
This includes windbacks on negative gearing concessions for future house purchases, which critics say will hurt house prices and the economy.
"We are (also) making other changes to the system of taxation, which will see some tax concessions which are given to the top end won't be so generous in the future," Mr Shorten told the Today Show.
"Instead we will use that money to educate the next generation of Australians."
Morrison says Labor's kindy pledge doesn't add up
Federal Education Minister Dan Tehan said Labor's preschool announcement was light on detail and short on consultation.
Mr Tehan said the states and territories provided the majority of preschool funding for four-year-old children.
"Labor wants to extend preschool funding to three-year-olds, but it's the states and territories who will pay for it, and ultimately the taxpayer," he said.
"Bill Shorten says he "thinks" the states and territories will be happy to pay for his election promises but he hasn't asked them."
Mr Tehan also said the opposition leader hadn't said who would pay for the infrastructure required to accommodate the three-year-olds.
He defended the government's preschool funding record, saying it had guaranteed preschool funding with an extra $440 million while working with states and territories to improve preschool attendance rates for disadvantaged and indigenous children.
Big news! pic.twitter.com/wjghsOQ7wf

— Bill Shorten (@billshortenmp) October 3, 2018
Andrews government announces own kindy funding
The Victorian Labor Government welcomed Bill Shorten's pledge, and also announced its own $5 billion package to deliver a full 15 hours a week of three-year-old kinder, with the rollout beginning in 2020.
In a statement, the Andrews government said Victorian parents paid around $5000 a year for 15 hours a week of three-year-old kinder, while many kids missed out altogether.
It stated that, if re-elected, a quarter of Victorian families would pay nothing for three year-old kinder while those with a higher income would have 65 per cent of fees covered.
Those with kids who go to long-day-care would also benefit, with these centres given funding to employ teachers in their three-year-old rooms.
Under the plan, every Victorian child would have access to at least five hours of subsidised three-year-old kindergarten by 2022.