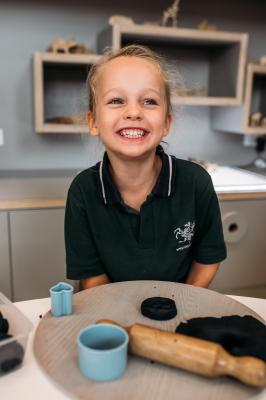 Head of Junior School, Sondra Wood, believes that independent co-ed Geelong College Junior School is a wonderful place to learn, noting its commitment to providing best practice learning opportunities for all students.
"From Early Learning to Year 3, the youngest learners of the Geelong College are nurtured, inspired and encouraged to reach their full potential under a Reggio Emilia-inspired approach," says Sondra.
"Every day is full of life and packed with knowledge and experiences. Our Reggio Emilia-inspired learning is reflected in everything we do; our children are respected as citizens of the present and our educators value diversity and understand difference so that all learners are able to reach their full potential."
The Geelong College Junior School learners are encouraged to take risks, be creative and imaginative in their learning, to maximise their connection to the land and the community.
Sondra says that the purpose-built school reflects this approach, with spaces for both indoor and outdoor learning.
"The building wraps itself around our children, with central piazzas for our community to gather and to feel safe and protected. Importantly, it's a place for the children to be just who they want to be."
Designed by renowned John Wardle Architects, the spaces provide endless opportunities and experiences for the children. Each space has both indoor and outdoor kitchens, ateliers to explore, and places to collaborate and for quiet time.
The award-winning educators work together to understand the intricacies of young learners in the ever-changing world.
"Our children are sometimes the teacher, sometimes learner, but always playful and always learning."
The land and place are an important part of The Geelong College experience.
Opportunities exist for learners to explore nature play, sensory gardens, to gather around the community fire pit within the Junior School, to explore the Enviro Garden at the Middle School and to visit Dog Rocks National Park regularly.
"It's wonderful to see the growing confidence of our children as they take risks and develop familiarity and understanding of the natural world and their place in it. Many of our project based learning explorations are from inspirations from nature and Indigenous culture," Sondra explains.
Explorative and intentional teaching based on the Victorian Curriculum ensures that all children are provided with the foundations of literacy and numeracy to ensure that they are supported to meet their full potential.
Every day at the Junior School is fun and dynamic, with expressive learning
in the arts provided by the school Atelierista, the languages of French and Chinese taught by native speakers, and all the colour and fun of dance and drama, as well as opportunities to learn musical instruments such as the cello, piano and violin or to join the rock band.
"The children remain central to all we do, feeling safe, respected and valued by our community," Sondra concludes.
"But don't just believe me! "As Year 2 student Alexis BegleyCapon puts it: 'At school, you can join other people's ideas to make a huge, huge idea!'"
Geelong College, Talbot Street, Newtown. Enquiries: 5226 3111 or www.geelongcollege.vic.edu.au