By Angie Hilton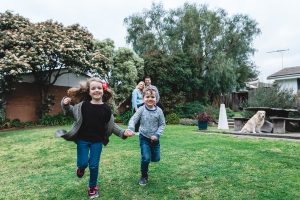 This story is a particularly hard one to cover, but on the flipside it's also an amazing example of resilience.
It's a story of being able to pick yourself up and carry on when dealt the toughest blow imaginable.
Karl Waddell and Alex Hamilton lost their firstborn son, River, to SIDS eight years ago.
Their grief is still close to the surface. But as a way to carry on, they channeled all their energy into starting River's Gift charity to raise awareness about SIDS and funds for research.
Their mission is to ensure other parents are up-to-date with all the latest SIDS research and preventative measures, in the hope that others can avoid going through the living hell they faced.
I visited their home for our chat and was delighted to find a bright pink front door.
I knocked and was greeted by two joyful cherubs – daughter Shiloh (aged six) and son Bodhi (four). Shiloh confidently started conversing with me like an adult – full of curiosity. Bodhi won me over with his cheeky grin and two costume changes in the space of 15 minutes.
The house has a lovely welcoming feel with photos of their gorgeous three children lining the walls. Alex makes you feel instantly at home with her caring, sweet nature. Karl jokes that he's not one to sit still for long, so we chat as he goes about business in the kitchen.
How would you describe life in the Hamilton/Waddell household?
Alex: Pretty manic (laughs)! I guess it's the same as most families with two working parents. There's always something going on with school and after hours activities.
Karl: I would say it's structured, which is Alex's specialty. The kids have strict bedtimes and there's no technology for any of us after dinner, which is actually good.
How did you two meet?
Karl: We were working at Drake recruitment together in Melbourne. Alex was out from the UK on a working visa. A staff member told me there was a cute new English girl and I should check her out, so we went out for a group catch-up after work. I'd like to think I charmed her (laughs). I put on my deeper voice.
Alex: Karl was very confident which was appealing. He's seven years older.
Karl: A funny story I have to share … When I first met Alex she was also a professional actress. She was in a play at Chapel off Chapel playing opposite Liam McIntyre (who went on to play Sparticus). The opening scene was Alex sitting on a toilet in a bra and undies … so I went back and saw it four times (laughs). I was impressed. Ten months later we were engaged, and we married in May 2009.
So things moved quite swiftly! How long after that was River born?
Alex: 2 July, 2011.
How were your births?
Alex: River came at 36.5 weeks. An 18-hour natural labour. He was 7lb 3oz.
Karl: I was so annoying – I'm surprised she didn't slap me at River's birth. I was like a footy coach "come on darling you got this". I think back and realise what a hindrance I was.
Alex: Shiloh was four hours. It was a water birth and she was a big 9lb 10oz. Bodhi was three hours and also a water birth. He was a whopping 10lb.
So when River was born did everything seem normal?
Alex: Yes, he was very healthy. He was rolling over at eight weeks. By four months he was a big strong boy at 7.5kgs.
Did you know much about SIDS when he was born?
Alex: Interestingly mum had told me that I stopped breathing when I was three months old. I'd been unwell with temperatures. Mum saw me in my cot and I was lethargic and blue. She picked me up and I started breathing again. They took me to hospital and they couldn't find anything wrong.
In our maternal child health class they talked about SIDS so we knew about the safe sleeping procedures. I thought we'd ticked all the boxes – I don't smoke, he's strong, we do tummy time, there's nothing in his cot, he was on his back. I honestly didn't think he was at risk of it happening.
So you followed all the procedures and what unfolded?
Alex: He was in a bassinet in our room and was starting to roll, so we thought we should put him in his cot in his room. I must admit I was a bit worried about him going out on his own, so we went to a baby expo and I said to the lady, "I'm thinking of moving him into his own room, can you tell me about SIDS, should I be worried about it?"
She said, "Look he's really strong and healthy boy, it doesn't really happen anymore".
At that moment I had an alarm based breathing monitor (that's recommended now) in one hand and a video monitor in the other and I bought the video monitor.
Ten days after that River died at 7.25am on 7 November 2011.
It is beyond heartbreaking to hear this. No one could even begin to imagine the pain you were in. How do you find the strength to move forward from that moment?
Alex: You think at the time, 'how can I possibly carry on? How can I even think about waking up tomorrow?' You literally have to give yourself permission to live second by second, minute by minute, hour by hour, then day by day.
Karl: You dread looking out the window in the morning and there being light.
Then you want everyone else to know what's just happened. We'd be walking around the river and we'd randomly stop people with babies and tell them what happened. We felt compelled to let people know how lucky they are.
Alex: The pain was beyond comprehension and I really wondered how I could carry on. I knew nothing could ever replace River, but I also knew I needed another baby.
Six weeks after River passed we fell pregnant with Shiloh. Shiloh means 'Gift from God' and she literally saved our lives. When I held her in my arms I just could not stop sobbing.
I look back at that time when Shiloh was a baby and I was so unwell. I was in and out of hospital with debilitating anxiety. Mum, Karl and I all took shifts in watching her 24/7 until she was 16 months. I had such severe PTSD that I couldn't drive with her in case she fell asleep.
You mentioned your mother being with you, was she your rock at the time?
Alex: My mum has been my lifeline. She was there the morning we lost River, so it was like a double heartache – losing her grandchild and not being able to fix things for her daughter. She has wiped my tears, picked me up off the floor and laughed with me. I will never be able to thank her for all she has sacrificed and wholeheartedly given. She is my best friend and she is more like a second mum to my kids.
Was creating River's Gift a big part of your healing journey?
Karl: Absolutely. It gave us purpose as if we were on a road to somewhere. We wanted answers – not only for ourselves, but also for every other parent. Within the first few months we'd already raised $50,000 to put towards SIDS research at Harvard.
Eight years down the track, we have raised around $1.4 million and have connected with organisations all around the world. I'm constantly amazed at how supportive people are. We really get to see a side of humanity that others may not get to.
Alex: River's Gift also allows us to be a support network for people all around the world. I get emails at 2am from parents who have just lost a child and they just need to know how they're going to survive. We get to show them that we've survived and give them hope that there's still so much to live for. These are the moments you realise why you do what you do.
How would you describe the joy your beautiful children bring to you lives?
It's so hard to describe the feeling you get when you have a baby after loss. Bodhi and Shiloh are our world and they brought hope back into a place that was very dark. As we see them reach milestones, I just feel so privileged to have them. It's all the little things – like when they run into my arms after kinder and school, or when they jump into our bed for morning cuddles. We never take a day for granted.
Shi was so doted on – I breastfed her until she was four. I often wondered how she'd go with another sibling, but she adores Bodhi. They really are best friends.
Do Shiloh and Bodhi speak about River?
Alex: They talk about their brother all the time. We have been really open from the start. If anyone asks them, they say 'mum and dad have three kids – us here, and one in heaven'.
We celebrate his birthday by going out and doing something he'd love to do at that age. On his anniversary we go to the beach in Torquay with my mothers group. We all put flowers in the water as all the children run in and play. It's a beautiful sight.
And your little 'Gift from God' Shiloh has a particularly special gift from God?
Alex: Yes, much to our surprise, Shiloh had her IQ tested at five and has an IQ of 147. One-hundred and thirty is 'gifted' and 150 is 'genius'. She's in Grade 2 (could be in Prep) and she's doing Year 8 maths. We don't know where this has come from (laughs).
Alex, what do you admire about Karl?
Alex: We have been married 10 years and eight of those have seen us living with River's loss and bringing our two most precious gifts into the world. Karl has shown an absolute unwavered dedication to growing River's Gift, as he truly cares about other families not going through his pain. I admire his strength and capacity to keep going even when it's one of those dark days. Watching Karl play with the kids is such a joy. They love reading books with him and singing silly songs.
Karl what do you admire about Alex?
Karl: Alex is the most incredibly devoted, caring, loving and committed mother I've met. The connection she has with them is very unique and special. They just adore her. She gives them so much time and attention; reading, laughing, joking, telling stories. She's all from the heart, as she is with everyone she meets.
I'll never pretend to understand the connection between mother and baby. And as much as I feel grief and pain as a father, I think that a mother's organic connection through being pregnant and giving birth is something that I'll never quite comprehend. I admire her resilience to get up and keep going. She's been knocked to the floor so many times but she just grinds her way through.
What would you like to share with people about getting through life's toughest challenges?
Alex: Whatever we are faced with, however dark that time might be, just know that there is light again. There will be happiness. You will smile again. Second by second. Minute by minute. You feel you have lost 'you'. But I am just discovering me again and it is exciting and makes me know I can face whatever comes my way.
For information on safe sleeping procedures or to donate to River's Gift, head to www.riversgift.com
Safe sleep principles
Always lay your baby on their back, in a cot or bassinet
Don't smoke during pregnancy or allow anyone to smoke around your baby
Sleep your baby on a firm cot mattress
Remove all entrapment possibilities in their cot. Therefore no cot bumpers, hats/bonnets, pillows, soft toys
Don't let your baby get too hot via overheating/overwrapping
Lay your baby with their feet at the foot of her cot
Never sleep on the sofa or in a chair with your baby
Never bed share with your baby – the risk of SIDS is higher if the baby co-shares a bed
Breastfeed your baby for as long as possible
*If you are a new parent and this topic feels confronting, remember the odds of SIDS occurring are slim at around 1 in 2500 babies.