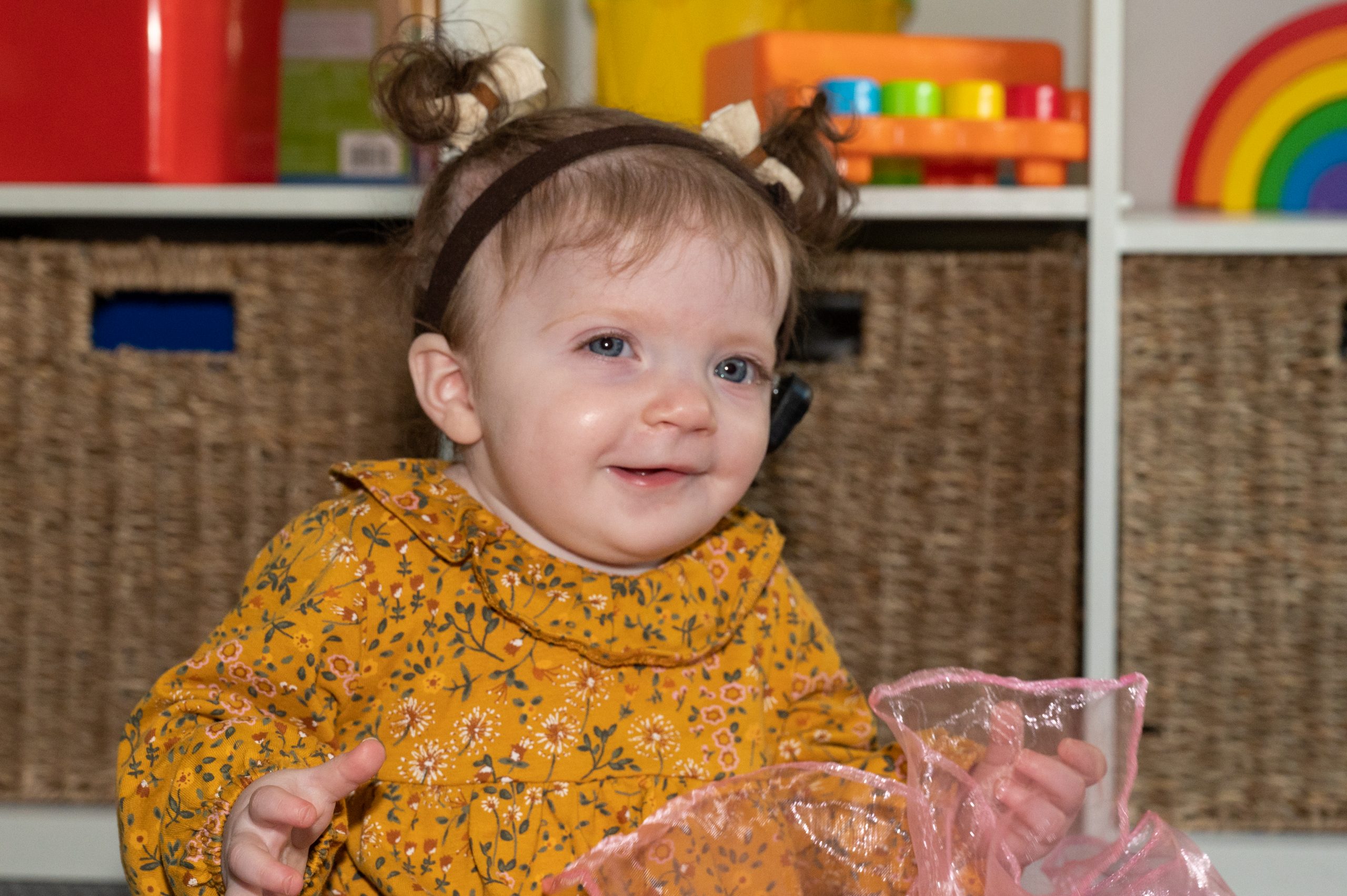 By Luke Voogt
At just 10 months old "cheeky" Curlewis bub and peek-a-boo enthusiast Sophie is giving future children born with hearing loss a better chance at speaking.
Her mum Yasmin King speaks to Luke Voogt about her diagnosis during Victoria's second wave of Covid-19 and her participation in new ground-breaking research.
Yasmin King had just been through almost 14 hours of labour, while wearing a mask, and another two-and-a-half of surgery when her husband discovered something wrong with their newborn daughter's ear.
Sophie was born at 10.15pm on August 24 after staff put Yasmin into induced labour that morning at 6.30am.
Shortly after, Yasmin had to undergo surgery, ending about 1am, to remove half of the placenta, which was stuck, to prevent infection.
When her husband Dahmon held their newborn girl for the first time, he noticed her left ear looked strange.
"He just said, 'there's something wrong with her ear and there's something wrong with her face'," the 32-year-old said.
She remembered being overwhelmed and anxious about her daughter's condition, as Victoria's second wave ravaged the world outside of University Hospital Geelong.
"There were just so many questions and so much uncertainty," she said.
The following morning Dahmon went home to look after their son Oliver, while Yasmin stayed at hospital as her daughter underwent a precautionary MRI scan to check for abnormalities.
"Watching your little newborn baby go into this huge machine is quite scary," she said.
"There was a sense of relief that there was nothing wrong with her brain [following the MRI] but we were still in the unknown bubble."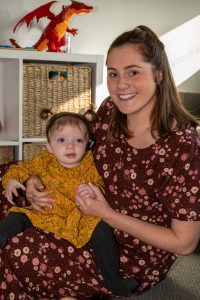 A day later, Sophie was diagnosed with a grade 3 microtia, a congenital abnormality in which the external part of an ear is underdeveloped or malformed.
"She has severe hearing loss in that ear, because it has no canal," Yasmin said.
"Her inner ear is fine but she doesn't have that opening for sound to travel into. The sound can't pass from the outer and middle ear to her inner ear.
"We were asking, 'what do we do about it and what does this mean for her life?'"
She also has facial palsy, which causes her to have a droopy lip and not blink her left eye, meaning Yasmin has to apply an eye gel a few times a day.
Sophie wears a bone-anchored hearing aid, which vibrates sound into her inner ear.
"When she's got her hearing aid, she's got two normal ears," Yasmin said.
"She must wear it every waking hour to give her the best chance to learn to speak.
"We've learnt how important those early years are.
"If she doesn't have that hearing, then she's not able to develop speech and language, which is so important."
But fine-tuning a hearing aid for a baby is very difficult.
"She's not old enough yet to tell us what she can hear and how well she can hear it," Yasmin explained.
Last December Yasmin received an email from The Bionics Institute about research and testing for a clinical device called EarGenie.
The device uses near-infrared light to monitor how a baby's brain is responding to sounds.
Yasmin signed up for the research and is booked to take Sophie in for testing next Tuesday.
"This research will give us more answers to help her – because we want to give her the best chance at a hearing life," she said.
But just as importantly to Yasmin, the study will help researchers improve the first prototype and test software needed to introduce EarGenie into audiology clinics.
This will help improve the device to help other infants with hearing loss, or using cochlear implants or hearing aids, in future.
"The main reason I contacted them to take part was that I want to help future parents," Yasmin said.
"I'm really looking forward to the experience. My mum's going to come with us.
"We're just really excited to take part so future families have the best chance of helping their children.
"It's a pretty stressful time when you get told that your child can't hear and you're dealing with the unknown.
"We're just using this opportunity to spread awareness of her disability – I had never hear of microtia before her diagnosis.
"Now we've got this opportunity to help other families and encourage them to participate."
Yasmin believes Sophie, who is hitting her developmental milestones and playing peek-a-boo every chance she gets, will one day be grateful for her parents signing her up.
"She's very content, very happy, cheeky and just really loves to be around her big brother," she said.
"She's really lucky that she was able to possibly make a difference in how children are diagnosed and perhaps make their life a bit easier. I think she should be really proud."
The Bionics Institute is looking for babies with both normal hearing and hearing loss to trial the new device.
Details: bionicsinstitute.org/call-for-research-participants-for-eargenie