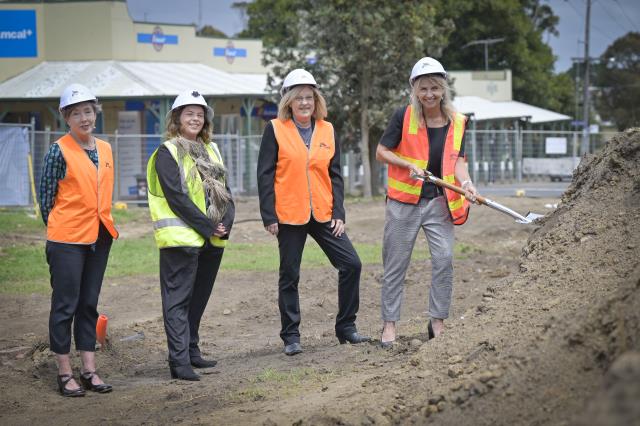 Ash Bolt
Bellarine residents will soon enjoy a new modern and accessible library in Drysdale, as construction is now under way on the $9.156 million facility.
Nicholson Construction was awarded the construction tender by council in October and mayor Stephanie Asher said it was exciting to see fencing up and works under way at the site.
"The new library will be a striking centrepiece for the Drysdale Town Square, featuring a roof planted with grasses and other greenery to link it closely to the surrounding park and help support biodiversity in the area," she said.
"As construction is now underway, it won't be long before Bellarine residents have a striking new facility which supports lifelong learning, creativity and social connection.
"The new Drysdale Library is part of our commitment to provide access to high standard libraries across the region along with sustainable facilities that celebrate the City's UNESCO City of Design designation."
The new library is funded with a $8.156 million contribution by the city and a $1 million Living Libraries Infrastructure Program grant from the state government.
"I'm really pleased that we are supporting the people of Drysdale and the northern Bellarine Peninsula with this contribution to their local library," Bellarine MP Lisa Neville said.
"Funding from the Living Libraries Infrastructure Program will help create a welcoming and accessible space for locals – not just a library but also a community space for people of all ages to enjoy."
The library will be part of the new Drysdale Town Centre at Wyndham Street and will feature communal spaces, quiet study areas, an adult changing places facility, a green roof, an internal courtyard garden, a City of Greater Geelong customer service point and resource efficient systems.
Geelong Regional Library Corporation chief executive Vanessa Schernickau said it would be an invaluable asset for the Drysdale community.
"The existing Drysdale Library is a much-loved space for the people of Drysdale and we're very excited about the plans for the new building which will provide this growing community with a world-class and modern facility," she said.
"The much larger space will be a destination for everyone to enjoy a larger collection, meeting and gathering spaces, and a community-responsive program of library events and services."
"Public libraries are invaluable assets that support prosperous and thriving communities by providing opportunities for belonging, learning and connection. I commend the City of Greater Geelong for their vision and support of public library services in this region."
In September 2020, Greater Geelong residents provided feedback on what they valued most about the existing Drysdale Library and what they wanted to see in the new facility.
Antarctica and Architecture Associates utilised the community's aspirations and worked closely with the City, Wadawurrung Traditional Owners Aboriginal Corporation, Geelong Regional Library Corporation, and other key stakeholders to develop the design.
The five-tier amphitheatre and library has been designed to respect and celebrate the area's Wadawurrung living cultural heritage, in particular the importance of gathering places and the connection to waterholes and water – reflected in the circular features of the design.
"This design respects and celebrates the significance of the McLeod's Waterholes and its watercourses to generations of Wadawurrung people," Wadawurrung traditional owner Stephanie Skinner said.
"The ripples in the forecourt speaks of the importance of caring for this landscape, especially its water system, and the animals and plants that are so dependent upon this water system.
It is expected the new facility will be completed by mid-2023.