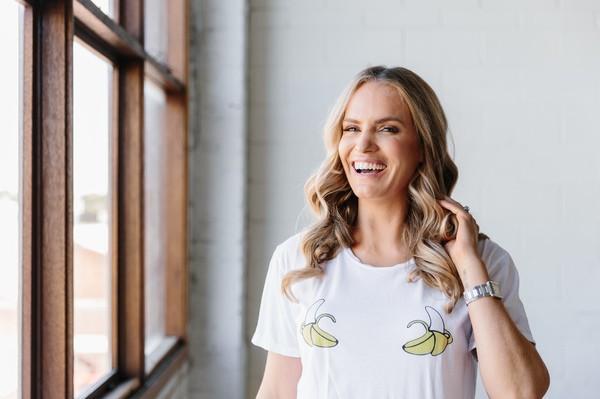 By Danielle Galvin
If there's one thing to learn about becoming a parent, it's that it's certainly not all a fairytale, but there's plenty to laugh about along the way.
Torquay mum of two and author Shannon Kelly White's new book Parenting for Legends, has been described as hilarious, brutal, at times disturbing, and the quintessential, tongue-in-cheek guide to life as a new parent.
As she puts it, it's for anyone "in the trenches" so that they can also see the funny side, as well as get some practical tips along the way.
It covers newborns, toddlers, pre-schoolers, all with amusing sketches, plenty of anecdotes all the while providing an honest, entertaining and useful account of parenthood.
Shannon wrote it for parents who are navigating the journey – it's the book she wishes she had when her two young boys came along.
"Parenting for Legends is a funny, irreverent guide to parenting young children," she said.
"I wrote it because parents face so much judgement and many feel pressured to be 'perfect' but our kids don't need us to strive for an unnatural ideal, they just need us to be kind and loving."
Shannon believes parents often feel far too much pressure and yet sometimes we're not as honest as we should be about the trials and tribulations.
"I think self-censorship definitely happens for a variety of reasons — maybe because they don't want to put people off parenthood or maybe it's because they're scared they'll be judged," she said.
"I think honesty is best!

"If we share our parenting struggles then other parents will realise they're not alone (and child-free people will know what they're in for!)."
It's been described as refreshingly honest and hilarious, but at the end of the day the message is a strong one.
"The overall message is that parents can relax a little — take the pressure down, enjoy their kids and do it their way," Shannon said.
"There's no one-size-fits-all approach to parenting — there are so many different ways to get it 'right'.
"It's the book I wish I'd had when I was a new mum."
These days, there's one thing parents-to-be can be sure of, and that's the volume of unsolicited, often unhelpful advice.
In the social media age, it can be confusing to navigate and there's no shortage of opinions.
"Parents are faced with a s***load of advice — some of it is useful but some of it just won't be the right fit and some of it is downright ridiculous like 'don't spoil your baby!' For Christ's sake, I'm cuddling him not setting him up with a billion dollar trust fund!" she said.
"Social media doesn't help — there's so much conflicting information and opinions about all sorts of things from post-baby bodies to breastfeeding to sleeping.
"It can be confusing and can make parents feel unsure. But it's important to do it your way; everyone has different values so it's only natural that we will parent differently."
Asking Shannon about her favourite anecdote or chapter in the book is in her words, tantamount to asking which child is her favourite.
"People have seemed to enjoy the chapter: 'Your Relationships Might Take a Punch to the Willy' which discusses the inevitable changes you'll encounter in your friendships and with your partner," she said.
"Having kids puts a strain on relationships because you're so focused on keeping your wee one alive that you have less time and energy to spend on anyone else.
"This can be very hard on new parents — it's isolating and sad — but it's something that's not often openly discussed."
When Shannon had her kids, she read the classic 'What to Expect When You're Expecting'.
"(It was) quite useful but it did skim over a few unpleasant details like epic areola size and haemorrhoids which I included in my chapter, 'What to Really Bloody Expect When You're Expecting'," she said.
And what's next for this best-selling author?
"I'm pretty keen to do a funny children's book next!"
The book is available online at parentingforlegends.com, Typo and Torquay Books.