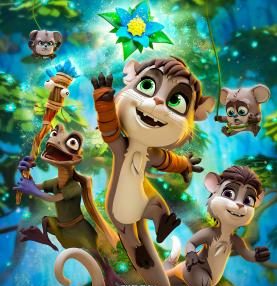 These new release titles are available on a variety of digital platforms including: Apple TV app/ iTunes, Fetch, Foxtel Store, Google Play, Microsoft Store, PlayStation Store and Telstra TV Box Office
100% Wolf
A computer animated film the whole family will love. The story of 100% WOLF centres on Freddy Lupin, heir to the leadership of a proud family line of werewolves. Freddy is sure he will become the most fearsome werewolf ever. However, things go pear-shaped on his 13th birthday when he is turned into a poodle. Freddy is thrown a bone by the pack elders, and given until the next moonrise to prove he has the heart of a wolf, or risk being cast out forever. With the help of an unlikely ally in a streetwise stray named Batty, Freddy must overcome his pink and fluffy exterior to prove he is still 100% Wolf.
Scoob!
Scooby and Shaggy are back! This comedy reveals how the lifelong friends met and how they teamed up with young detectives Fred, Velma and Daphne to form the famous Mystery Inc. In Scoob!, Scooby and the gang face their biggest, most challenging mystery ever: a plot to unleash the ghost dog Cerberus upon the world. As they race to stop this global "dogpocalypse," the gang discovers that Scooby has a secret legacy and a destiny greater than anyone imagined. The film features some familiar voices too, with Zac Efron and Mark Wahlberg among the stars.
The Wishmas Tree
An Australian-made computer animated family film about a young possum's wish for a white Wishmas. It's a misguided wish – the possum not only freezes her entire hometown of Sanctuary City, but also threatens the lives of all who live there. Before the magical Wishmas Tree wilts and dies, she must venture into The Wild – there she will battle self-doubt, ghostly predators and ultimately, extinction itself, in a bid to reverse the damage she has caused and save her city. Comedian Ross Noble and actor Miranda Tapsell lend their voices to this cute animated Aussie adventure.
Dolittle
Robert Downey Jr stars in a vivid reimagining of the classic tale of the man who could talk to animals: Dolittle. After losing his wife seven years earlier, the eccentric Dr John Dolittle (Downey), famed doctor and veterinarian of Queen Victoria's England, hermits himself away behind the high walls of Dolittle Manor with only his menagerie of exotic animals for company. But when the young queen falls gravely ill, a reluctant Dolittle sets sail on an epic adventure to a mythical island. While searching for a cure, Dolittle regains his wit and courage as he crosses old adversaries and discovers wondrous creatures.
Sonic The Hedgehog
Remember Sonic the Hedgehog from Sega? This movie tells the story of the world's speediest hedgehog as he embraces his new home on earth. In this live-action adventure comedy, Sonic and his new best friend Tom (James Marsden) team up to defend the planet from the evil genius Dr Robotnik (Jim Carrey) and his plans for world domination. Sonic The Hedgehog's move to film has been a success – it had the highest-grossing opening for a video-game adaptation, making over $300 million dollars at the global box office before being made available to view at home.